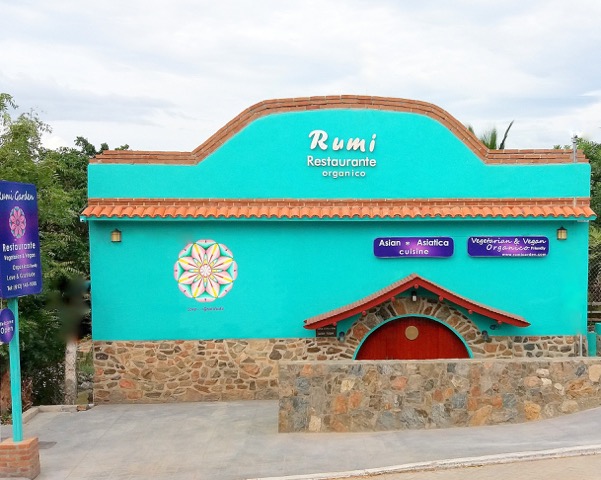 Rumi Garden is located in Todos Santos, a small, desert oasis town near the foothills of the Sierra de la Laguna Mountains, on the Pacific coast of the Baja California Peninsula. We are about an hour's drive north of Cabo San Lucas on Highway 19 and an hour's drive southwest from La Paz. This surfer's heaven is located on the Tropic of Cancer; it's a peaceful place to come and relax, be in the present moment, and discover yourself.
I also created Rumi Garden to be a Meeting and Entertainment Center, where people can celebrate life, conduct and attend workshops, create unique art shows, and play and enjoy music. I invite all instructors to come and share their knowledge here in Rumi Garden. Let us grow, be self-aware, and explore together the tools to live a more harmonious life.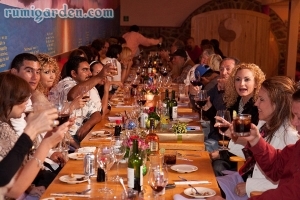 We are easily able to serve 65 people at tables or 100 without tables for any kind of gathering and our space is available to rent with or without food. This past year, we enjoyed everything from a workshop on Mayan calendar teaching, to private birthday parties to a blues band concert, an acoustic concert and a soloist. We can screen movies and presentations, and we have beautiful acoustics and a stage. And there's several large walls ready to hang your art for your private exhibition.
Our patrons will enjoy your presentation or party in our cozy relaxingspace: surrounded by the sound of water cascading in the garden fountain, and the dancing lights of the fireplace overlooking our big tabachin tree!
Please stop in, let me offer you nutritious food, love and care, and please share whatever you may have to offer in our Rumi Garden! Everybody is welcome!